Just in time for the '07-'08 Washington Capitals season, I've updated the Beltway Sports Shop's highest-selling item (registering a whopping three sales last season), the Hat Trick Hat!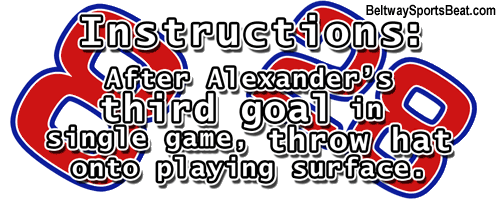 (And don't worry, that ugly "BeltwaySportsBeat.com" tag isn't on the actual hat.)
That's right, now it's got it all! Not only does it have the new colors and kinda-similar-like number styles, it also includes a whole new player! Because I'm
sure
I wasn't the only person standing there during Alexander Semin's home-opener hat trick wondering, "Is it not right to throw an A.O. Hat Trick hat for a hat trick scored by someone other than A.O.?"
Problem solved.
The new version has #8 AND #28, and instead of being an "A.O. Hat Trick Hat," is now an "Alexanders" hat trick hat. Smart!
A bargain for just $14.99!
Buy yours today!
Exclamation points!!!!!!!