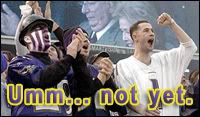 With the Orioles and Nationals going nowhere and NFL training camps opening this week, I've been hearing a lot of that phrase said all too often in late July around here:
"At least it's almost football season."
Now that football is the undisputed king of American sport I'm sure this phrase is echoed all over the nation in cities where baseball teams aren't doing so hot.
But I hate it.
Don't get me wrong. I love football and I cheer hard for the Ravens... from September to January. But it's July and that's baseball season whether your team sucks or not. In fact, it's trade-deadline time. The "hot stove"! But if you turn on D.C. or Baltimore sports stations, all anyone wants to talk about is football.
I want to read, watch or hear news about possible trades and who's doing what that could help them in the long run, but instead every media outlet has to devote 85 percent of their coverage to football.
In July.
Yeah, it's hard to cheer for the O's or Nats sometimes (especially the O's), but you still cheer for your team until the season's over and don't look for any excuse to dump them, especially when that excuse is training camp and worthless preseason football games where 40 guys you've never heard of play on local TV for a spot on the third string.
Saying one local team isn't worth your time because there's another, better local team getting ready to play makes you a fairweather fan. Maybe not in the traditional sense, but the idea is the same.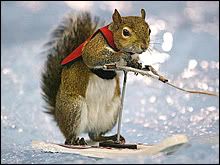 My feelings against this actually go back a ways. As a Caps and Wizards fan, I got pretty tired of year after year hearing and seeing no talk of the Caps or Wizards because this area is
all 'Skins all the time
. Even when the Caps were just coming off a run to the Stanley Cup finals and the Skins were coming off a 6-10 season and sucked donkeys, the Caps were still just a passing mention on the sports news, treated as a novelty act like the water skiing squirrel.
"Hey, did you hear about the local hockey team that made it to the championship finals?"
"Hey... did

you

hear about the squirrel that can ride

WATER SKIS

!?"
It was bad enough when football meant no coverage for teams that actually played winter seasons, but now football coverage is smothering out summer sports. (Seriously... where's the D.C. United and Washington Mystics coverage? I blame football.)
I know there's excitement in this area about football. A national columnist even
picked the Redskins and Ravens
to face each other in the Super Bowl,
with the Ravens coming out on top
. (OK, so it's ESPN.com Page 2...) But despite the football teams' potential and the baseball teams' continuous losing there should be a lot of
something
in this area for baseball.
If you're a Nats fan, what do you think you can get for Alfonso Soriano? Is the Austin Kearns trade the start of an upswing in the franchise or did that blind squirrel Jim Bowden just stumble upon a nut? (What's with all the squirrel references today?) You have reason to be excited and optimistic with a new ownership group, a new stadium coming, and plenty of changes to the current stadium to make for a better game experience in the meantime.
For the O's, do you trade Miguel Tejada or keep him? Do you trade one of your young arms to fill your holes at first base and in left field? Do you seriously consider sending Peter Angelos to the same
sushi joint that Erik Bedard went to
in the hopes that it takes a greater toll on his 77-year-old body?
Maybe the feelings you have toward your baseball team aren't all positive at the moment, but whatever they are, they should at least be strong enough to keep you interested...
At least until football season
really
starts on
August 19
.