Alexander Ovechkin provided plenty of highlights in the Capitals 5-3 win over the Colorado Avalanche on Wednesday, scoring a power play goal to put the Caps ahead 3-1, laying a hard shoulder check on Karlis Skrastins that destroyed a pane of glass, earning a penalty shot (although he shot high and wide of the goal), then ending the night by getting hit in the knee by a shot puck from his own teammate (I'm looking at you, Shaone Morrisonn).
To get everyone psyched for tonight's game against the Vancouver Canucks, here's a picture and a quote that sum up the Ovechkin experience: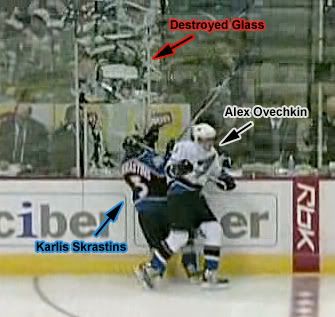 (To be fair to Skrastins, despite what it looks like in this picture, he stood up through the check and was already skating back toward the play when the play was stopped for cleanup.)
In a scary moment, Ovechkin took a puck to the knee with just seconds remaining in the game and had to be helped off the rink. Fortunately he was walking fine after the game, and he had
this to say to The Washington Post
:
"I'm okay; Russian machine never breaks."
Damn straight.
Honestly I expect he meant it as a comment on the integrity of Russian engineering and craftsmanship rather than as a self-implemented nickname, but that's not nearly as awesome.
Tonight's game is at 10 p.m. on Comcast SportsNet, and I expect you all to stay up for it. I'll be calling your house at 1 a.m. with a quiz on the game results, so be prepared.
---
Alex Watch:

(8 games in)
G
A
Pts
SOG
+/-
ATOI
Ovechkin
5
3
8
50
-1
21:27
Semin
8
4
12
33
2
16:01
(SOG = Shots on Goal, ATOI = Average Time On Ice)